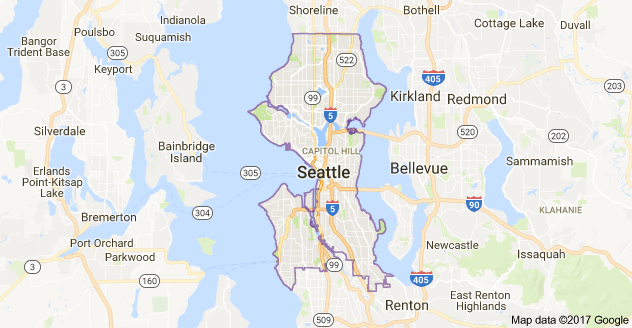 Living in Seattle
Known to the world for its addiction to caffeine, the Emerald City of Seattle is the largest city in both the state of Washington and the Pacific Northwest region. The Greater Seattle Area has an estimated population of 3.8 million that is culturally diverse and environmentally conscious. It has at least 180 neighborhoods according to the Seattle Department of Neighborhoods, which is a great place to find a home. With its soaring views of the mountains and generally temperate climate, nearly everyone would want to live in Seattle.

Ask someone who wants to move in to Seattle and most likely, the topic of weather will come up first. Rain is a fact of life in the city. Although it rains 50 percent of the time, Seattle is actually relatively drier compared to Chicago or New York. This rain sculpted a unique geography of verdant forests, rivers, lakes and majestic mountains. And this is the reason why more people are moving in to the city each year, which makes it fourth for growth among the 50 biggest U.S. cities according to the U.S. Census.

Coffee also rains in Seattle. There are about 35 coffee shops per 100,000 residents and the average spent per month for coffee is $36. You may already know that Starbucks was born here and they have 104 store locations in the city alone.

Seattleites are known to be environmentally conscious. They bring reusable bags to groceries and variety stores – plastic bags are no longer available. You can recycle basically anything now, and organic produce are widely available. Being a green city means more than 6,200 acres of parkland, and every park allows dogs. Seattle is a city that encourages lifetime commitment to personal recreation and fitness. Walking, biking, rollerblading and jogging, as well as kayaking, sailing, rowing and scuba-diving all can be done within the city limits. Exciting sports teams including professional baseball, football, and WNBA basketball teams will get you cheering.

The small-town feeling of each area in the city gives Seattle residents a sense of community. It is known for its popular community events where you will find lots of fun things for families and singles to do throughout the Greater Seattle Area.

When moving to Seattle, other things you will need to consider are healthcare, education, transportation and local media outlets. The city offers quality healthcare services from different hospitals, medical centers, and multi-specialty clinics. The Greater Seattle Area is also home to different schools, colleges and universities from public and private institutions. The city also continues to make transportation improvements. The new light rail is becoming popular, and getting around the city includes metro buses or downtown trollies.

Moving your home is about more than choosing a city and neighborhood to live in – it is also about making important decisions for your family about education, childcare, education and healthcare. Seattle is a dynamic city and it will never run out of things to do or explore.

When you are moving to Seattle be sure to check out the Great Seattle InfoGuide.
ARE YOU MOVING INTO THE AREA?
Looking for information about the area? My relocation package will quickly familiarize you with everything the surrounding area and communities have to offer.